There are a lot of rules and fine shadings governing your academic journey, and we are here to help you find your way. Below are some key policies that may be helpful.
Academic Standing Chart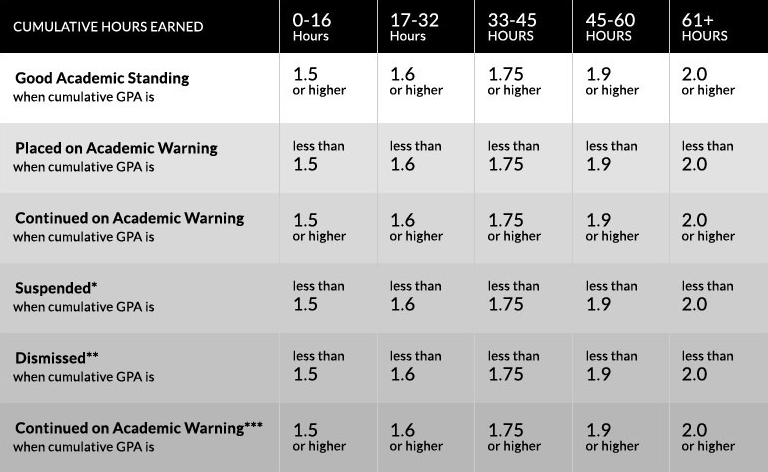 * No student may be suspended who has spent the prior term of enrollment on academic warning.
** No student may be dismissed who has not been suspended during a prior term of enrollment.
*** Following Suspension and Following Dismissal.
Grade Forgiveness Policy
Thanks to the Grade Forgiveness Policy, students may improve their grade point average by repeating a course in which a "D" or "F" was received.
Keep in mind:
Students are limited to two requests (up to nine hours) as a UA undergraduate.
Lecture/lab co-requisites taken together count as one usage.
Both the original grade and the new grade appear on the transcript, but only the new grade will be used to calculate your GPA.
Grades received because of academic dishonesty are not eligible.
Some institutions will not recognize grade forgiveness.
To apply for grade forgiveness, a student must file a written petition through the registrar's office. The petition must be completed and approved before graduation.
For more information on the University of Arkansas' academic policies, visit the Office of the Provost and Vice Chancellor for Academic Affairs. See the chapter on the Fay Jones School of Architecture in the online Catalog of Studies for more information on the school's academic policies.