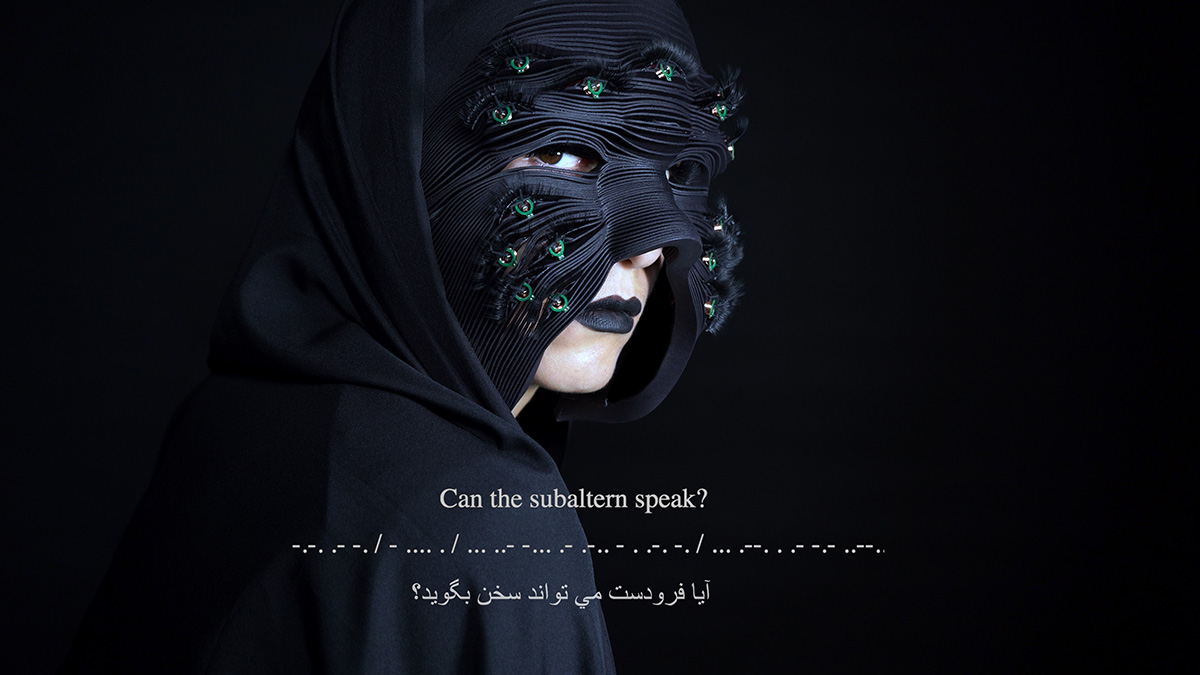 This project is inspired by the intriguing Iranian historical masks worn by the Bandari women from the Persian Gulf, and are used here to promote a feminist, advanced tech resistance to patriarchy. (Photo courtesy Behnaz Farahi)
Register for virtual lecture series:
All lectures start at 4 p.m. Central Time and will be presented virtually. To register for this lecture and the entire lecture series, complete this registration form on Zoom. You will be sent a confirmation email upon registration.
You must have a Zoom account (which is free) to register for this lecture series.
Behnaz Farahi is an award-winning designer and critical maker based in Los Angeles. She is an assistant professor in the Department of Design at California State University, Long Beach. Her work addresses critical issues such as emotion, perception and social interaction, and she specializes in computational design, interactive technologies and digital fabrication technologies. She explores how to foster an empathetic relationship between the human body and the space around it using computational systems.
Farahi will present the virtual lecture "Emotive Design from Architecture to Fashion" at 4 p.m. Monday, March 1, as part of the spring lecture series in the Fay Jones School of Architecture and Design.
The Fay Jones School's spring lecture series is presented in collaboration with Places Journal, an internationally respected online journal of architecture, landscape architecture and urbanism, and the University of Arkansas Office for Diversity and Inclusion. The series is also made possible in part by a gift from Ken and Liz Allen of Fayetteville, part of an overall set of commitments the Allens have made to the school's programs and initiatives in diversity, equity and inclusion.
Registration for the entire lecture series is available on Zoom.
In her lecture, "Emotive Design from Architecture to Fashion," Farahi will address new ways in which materials of the environment can be imbued with artificial intelligence and life-like behavior in order to interface with human emotion. The goal is to address the possibility of an empathetic relationship between human beings and their environment in order to augment human intelligence and sensory experience of the world and influence social interactions.
By demonstrating a series of interdisciplinary projects, Farahi will address provocative research questions through design and critical making, fueled by the latest advances in the world of neuroscience, cognitive philosophy, computational design and artificial intelligence. From wearables to architecture, these projects demonstrate an application of techniques, such as EEG brain imaging, facial and gaze tracking, as well as novel actuator systems, such as smart materials and pneumatics systems.
Farahi holds a doctorate in Interdisciplinary Media Arts and Practice from University of Southern California School of Cinematic Arts.
Her work is part of the permanent collection of the Museum of Science and Industry in Chicago, and it also has been exhibited internationally at Ars Electronica, Linz and Context Art Miami. She has been featured in several magazines and online websites, including Wired, BBC, CNN, The Guardian, Frame magazine and others.
She is a co-editor of an issue of Architectural Digest magazine and of the books 3D-Printed Body Architecture (2017) and Interactive Futures (forthcoming).
Farahi has won several awards, including the Innovation By Design Award from Fast Company and the World Technology Award (WTN), and she is the recipient of the BASA and Madworkshop Grants, and the Rock Hudson Fellowship.
The school is pursuing continuing education credits for this lecture through the American Institute of Architects and the American Society of Landscape Architects.
This virtual lecture is open to the public. For details on watching the lecture, please visit the Fay Jones School's lecture page. To register for the entire lecture series, complete this form on Zoom.
For more information, contact 479-575-4704.