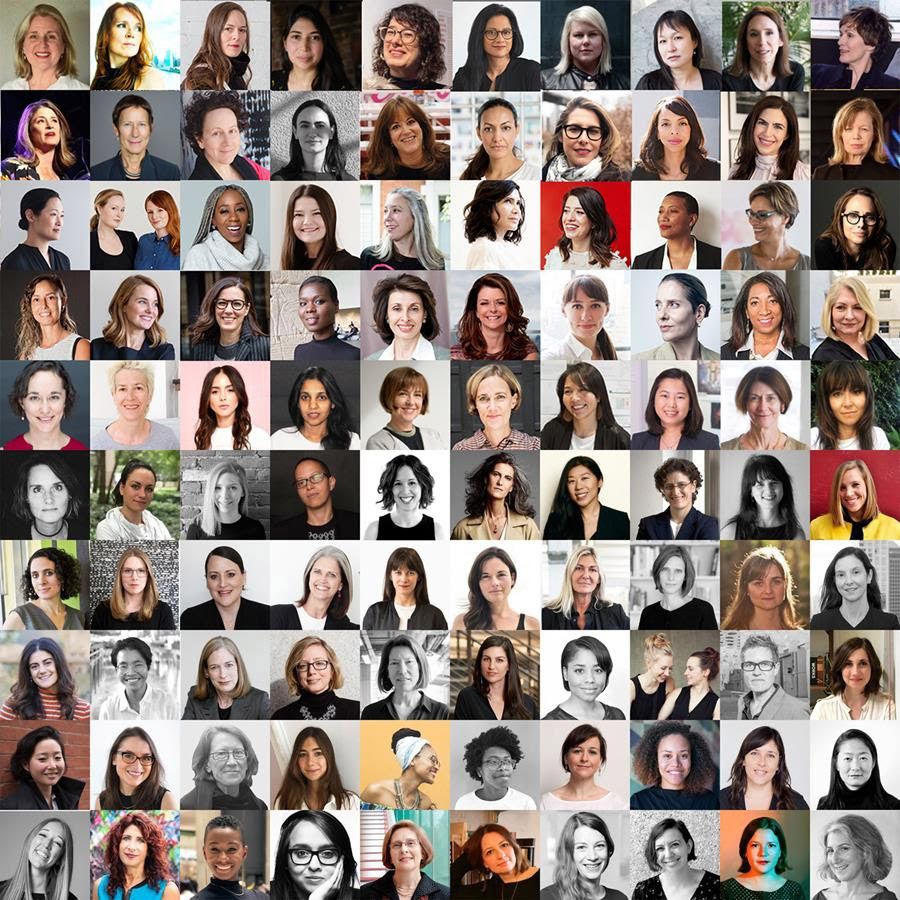 This composite image features a sample of the more than 300 female architects and designers that Julia Gamolina has interviewed and featured on Madame Architect since she founded the online magazine in 2018. (Image courtesy of Julia Gamolina)
Julia Gamolina is the founder and editor-in-chief of Madame Architect, a digital magazine and media start-up, based in New York. She is also an associate principal and business development director at Ennead and visiting assistant professor at Pratt Institute.
Gamolina will present a lecture at 4:30 p.m. Monday, Nov. 7, in Ken and Linda Sue Shollmier Hall, Room 250 of Vol Walker Hall, on the U of A campus, as part of the fall lecture series in the Fay Jones School of Architecture and Design.
In her lecture, "All of Those That Shape Our World: Madame Architect on Stories and Lessons for a New Way Forward," Gamolina will look at how women have been designing, building and making decisions about the worlds they have built for as long as they have been building them — while their leadership, innovation and creativity have been underrepresented. She will describe Madame Architect's inception and evolution and will discuss what it means to have the world designed by many different voices.
Madame Architect was founded in 2018 to bring to light and celebrate all the different professionals who identify as women and contribute to the built environment. She has since told the stories of more than 300 architects and designers — including Frida Escobedo, Neri Oxman, Dorte Mandrup, Deborah Berke, Odile Decq and 2020 Pritzker Prize Laureates Yvonne Farrell and Shelley McNamara — as well as CEOs, publicists, journalists, business strategists, counsel and more.
Gamolina received her Bachelor of Architecture at Cornell University, where she was awarded the Charles Goodwin Sands Memorial Medal for Exceptional Merit in the Thesis of Architecture.
At Ennead, she focuses on the educational, cultural and healthcare markets nationally. At Pratt Institute, she teaches a graduate level professional practice seminar on the history and the practices of the profession.
Gamolina has been named one of Apartment Therapy's Design Changemakers and Commercial Observer's Top Young Professionals. In 2019, she received the Special Citation from AIA New York for her work with Madame Architect. Her writing has been featured in Fast Company, A Women's Thing, Metropolis magazine, Architizer and the Architect's Newspaper. Gamolino has engaged in many speaking engagements and served as a guest critic for design reviews at Cornell University AAP, Columbia University GSAPP, and the School of Visual Arts in New York.
This is the Michael Lejong Leadership in Architecture Lecture.
The school is pursuing continuing education credits for this lecture through the American Institute of Architects.
This lecture is free and open to the public. Seating is limited.