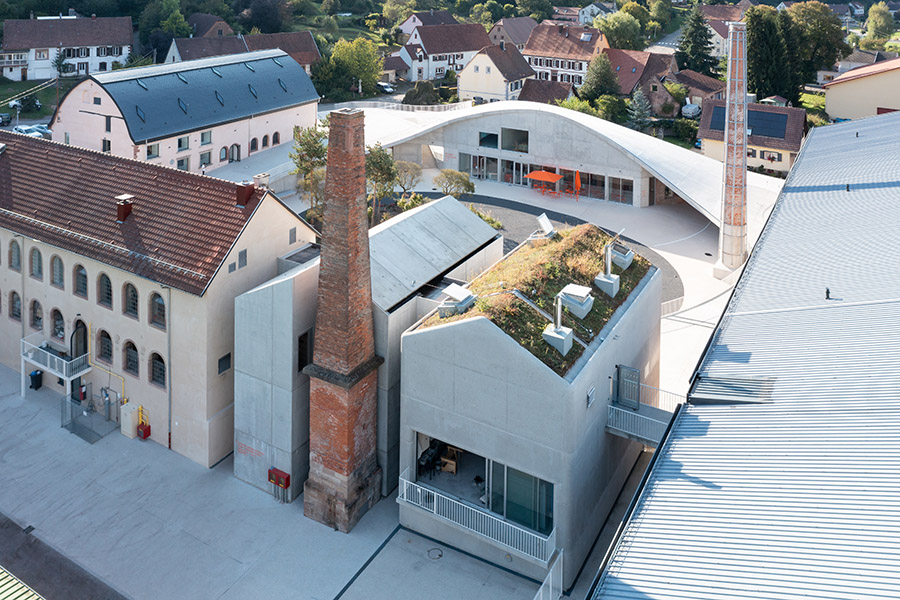 SO – IL collaborated with the Parisian studio FREAKS to renovate and extend an 18th-century glass factory in France, adding a sweeping concrete plaza that unites a series of cultural spaces. This site is close to the village of Meisenthal. (Photo by Iwan Baan)
Jing Liu is a co-founder at Solid Objectives – Idenburg Liu (SO – IL), in New York, New York. In her 15 years of practice, Liu has worked on a wide range of projects in the United States and abroad. She leads her projects from concept to realization and considers all aspects of design and construction — from the building's presence in a community, down to the fasteners in a window.
Liu will present a lecture at 4:30 p.m. Monday, Feb. 13, in Ken and Linda Sue Shollmier Hall, Room 250 of Vol Walker Hall, on the U of A campus, as part of the spring 2023 lecture series in the Fay Jones School of Architecture and Design.
In her lecture, "SO – IL's Body of Work," Liu will present four recent projects, examining how to carry experimental and innovative ideas to realization and how a body of work amounts to a cohesive practice. She will also discuss what is at stake in the making of cultural spaces today, in making denser housing in cities, and in the preservation and transformation of the already-built environment.
Through building practice and interdisciplinary research projects, Liu has led SO – IL in the engagement with the socio-political issues of contemporary cities — in projects such as the Artists Loft North Omaha and the Martin Luther King Jr. Library in Cleveland. Her projects range from artistic collaborations with contemporary choreographers and visual artists to master plan and major public realm design in cities such as Melbourne and Indianapolis.
Liu brings an intellectually open, globally aware, and locally sensitive perspective to architecture. Her curiosity and artistic imagination allow her to bring a nuanced cultural perspective to the table. Her skills in combining digital technology with traditional craft and firm belief in design's ability to re-engage people with the physical world around them allow the buildings she designs to become places of exchange that welcome interpretation and transformation.
She believes strongly that design should be and can be accessible to all, and that architecture offers an open platform to nurture new forms of interaction. Liu sees community engagement and collaboration across disciplines as central to her role as the design lead.
This is the Ernie Jacks Lecture, sponsored by Marlon Blackwell Architects.
This lecture is free and open to the public. Seating is limited.