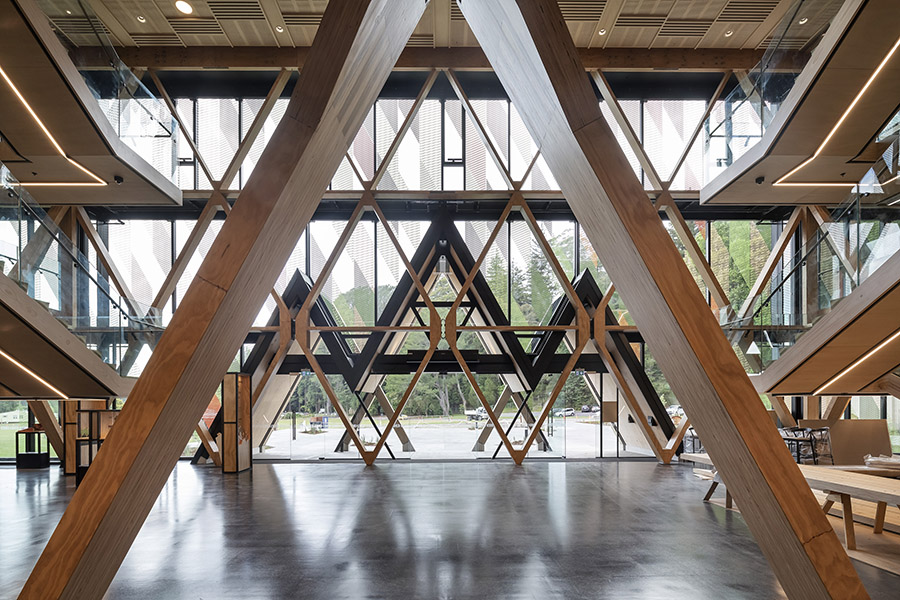 The Scion Innovation Hub – Te Whare Nui o Tuteata in Grey Lynn, New Zealand, is a cutting-edge showcase for engineered timber not only in terms of the aesthetic but what it contributes to a carbon-zero future. (Photo courtesy of Irving Smith Architects)
* This lecture has been rescheduled from Jan. 30 to Feb. 8, due to inclement winter weather. //


Jeremy Smith, FNZIA, is the design director at Irving Smith Architects in Nelson, New Zealand. The research-based practice works in sensitive environments throughout New Zealand and abroad. Smith is the 2023 John G. Williams Distinguished Visitor in Architecture.
Smith will present a lecture at 4:30 p.m. Wednesday, Feb. 8, in Ken and Linda Sue Shollmier Hall, Room 250 of Vol Walker Hall, on the U of A campus, as part of the spring lecture series in the Fay Jones School of Architecture and Design.
In his lecture, "Soft Architecture, Being Finished is Finished; Recent Unfinished Works," Smith will examine the question: "When is being finished, finished?" He will discuss a house alteration project he completed on one of his previous designs after a cyclone cleared trees around it in the forest. His adventure of alteration, research and teaching led to international awards, speaking, exhibition and judging engagements, and teaching engagements around the world.
His practice, Irving Smith Architects, has won a string of international awards, including World Timber Building of the Year and World Higher Education and Research Building of the Year at the 2020-2021 World Architecture Festival; World Villa of the Year at the 2017 World Architecture Festival in Berlin; the 2021 Eurasian International Architecture Laureate; the 2021 Indo-Pacific region's INDE The Building Award; a 2021 Best of the Best Masterprize for Green Buildings; the 2021 Architizer Architecture + Wood Award; the Judges Special Award at the 2020 Taipei International Design Awards; a 2019 UNESCO Asia-Pacific Cultural Heritage Award of Distinction.
The practice has also received multiple New Zealand Architecture Awards in public, residential and commercial categories, and has three times represented New Zealand at the Prague International Architecture Festival, where their "Soft Context: Soft Architecture" exhibitions presented their practice approach of participating with existing landscapes before generating new contexts.
Smith writes for Architecture New Zealand, has judged national architecture awards in New Zealand and India, and at World Architecture Festivals in Singapore, Berlin, Amsterdam and Lisbon, and lectures regularly about the practice's work and research around the world.
He is an adjunct professor at the University of the Free State in South Africa, and an international advisor to the Saveetha College of Architecture and Design in Chennai, India. Smith was formerly an adjunct associate professor at the University of Auckland, where he taught iterative design at the graduate level and undertook a design-based doctorate.
While in Arkansas, Smith is live testing architectural strategies for a studio titled "Ch-ch-ch-ch-change" that he is co-leading at the Fay Jones School with Alexandra Waller, an instructor in architecture. This studio examines how buildings inhabit an environment that constantly undergoes change and advances the position that architecture is not about a finished building in a changing environment, but about designing for a continual dialogue between a building and its context. It will also focus on what it means to establish sustainable cities in an environment and landscape facing massive change due to climate crisis.
This lecture is free and open to the public. Seating is limited.