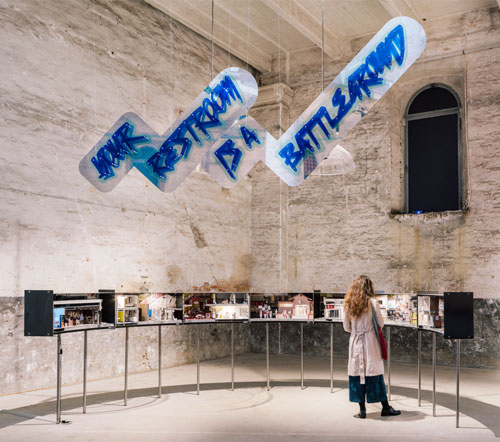 Venice Biennale, YOUR RESTROOM IS A BATTLEGROUND, a multi-media installation by JSA/MIXdesign, Matilde Cassani, Ignacio G. Galan, Ivan L. Munuera. (Photo courtesy of Joel Sanders and Seb Choe)
Register for virtual lecture series:
All lectures start at 4 p.m. Central Time and will be presented virtually. To register for this lecture and the entire lecture series, complete this registration form on Zoom. You will be sent a confirmation email upon registration.
You must have a Zoom account (which is free) to register for this lecture series.
Joel Sanders, FAIA, is the founder of MIXdesign, an inclusive design think tank and consultancy that is a branch of his New York-based, LGBTBE-certified architecture studio JSA (Joel Sanders Architect). Seb Choe is the associate director of MIXdesign.
Sanders and Choe will present the virtual lecture "Body Politics: Social Equity and Public Space" at 4 p.m. Monday, Oct. 18, as part of the fall lecture series in the Fay Jones School of Architecture and Design.
The Fay Jones School's fall lecture series is presented in collaboration with Places Journal, an internationally respected online journal of architecture, landscape architecture and urbanism, and the University of Arkansas Division of Diversity, Equity and Inclusion.
In their lecture, "Body Politics: Social Equity and Public Space," Sanders and Choe will discuss how MIXdesign is expanding its mission to consider the inevitable impact that the coronavirus pandemic will have on social equity and public space. Addressing the spatial implications of COVID-19 is an extension of MIXdesign's commitment to the creation of safe and accessible designed environments that meet the needs of "non-compliant bodies" — people of different ages, races, genders, religions and abilities that the discipline of architecture has traditionally overlooked.
MIXdesign is dedicated to making everyday building types such as restrooms, art museums and university campuses accessible and welcoming to people of different ages, genders, abilities, cultural identities and religions. MIXdesign initiatives include Stalled!, an AIA award-winning project that responds to national controversies surrounding transgender access to public restrooms.
Choe coordinates the efforts of in-house staff, institutional partners, research assistants, interns and a network of consultants for MIXdesign research, educational, legal and fundraising initiatives. As the Project Manager for Stalled!, an interdisciplinary initiative for inclusive restrooms, they oversee research and design teams, organize lectures and workshops, and disseminate work through publications in print and online formats, including Stalled! Online and Stalled! The Video.
Sanders is also a professor at Yale School of Architecture, where he directs the M.Arch. II program.
The school is pursuing continuing education credits for this lecture through the American Institute of Architects.
This virtual lecture is open to the public. Admission is free, with limited seating. To register for the entire online lecture series, complete this form on Zoom.
For more information, contact 479-575-4704.
Watch the recorded lecture online.