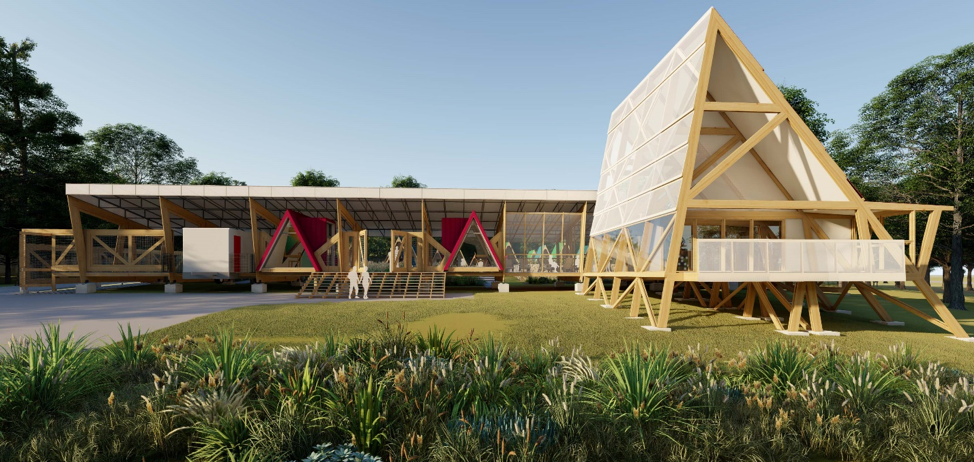 New Beginnings is a transitional housing community for homeless singles making insufficient wages and lacking access to affordable housing. (Rendering by U of A Community Design Center)
Stephen Luoni is the director of the University of Arkansas Community Design Center. He is also the Steven L. Anderson Chair in Architecture and Urban Studies and a Distinguished Professor of architecture in the Fay Jones School.
Luoni will present a lecture at 4 p.m. Monday, Sept. 9, in Ken and Linda Sue Shollmier Hall, Room 250 of Vol Walker Hall, on the University of Arkansas campus, as part of the Fay Jones School of Architecture and Design lecture series.
During his lecture, "Reinventing the Commons," Luoni will develop an overall approach to public-interest design and its role in producing public goods – the very definition of what it means to be a profession. He will focus on formulation of the placemaking platforms and design projects demonstrating these platforms.
Architects are asked to solve for complex public-interest problems, or "wicked problems," with many variables of challenges characterized by social complexity. The development of approaches with many scales as well as formal vocabularies are intrinsic to addressing this class of design problems.
The U of A Community Design Center is an outreach center of the Fay Jones School, with work that specializes in interdisciplinary public-interest design, combining ecological, urban and architectural design. As a teaching office with professional staff, it has developed the building blocks for a new ecology of the city. This repertoire of placemaking platforms triangulates public policy, best practices and design in the areas of agricultural urbanism, missing middle-scale housing, context-sensitive street design, transit-oriented development, watershed urbanism and ecologically-based urban stormwater management.
The Community Design Center is one of a few university-based teaching offices in the United States dedicated to delivering urban design work. The center's focus on expansive problem-solving through new design tools and pattern languages address the public good and the role of community design centers in addressing the grand challenges that enlarge the design professions.
Under his direction since 2003, the center's work has received more than 150 awards for urban design, research and education, including Progressive Architecture Awards, American Institute of Architects Honors Awards for Regional and Urban Design, Charter Awards from the Congress for the New Urbanism, American Society of Landscape Architecture Awards, Environmental Design Research Association Awards, American Architecture Awards and the international LafargeHolcim Awards.
Luoni directed production of the center's books: Houses for Aging Socially, Conway Urban Watershed Framework Plan and Low Impact Development: A Design Manual for Urban Areas, which has been translated into Chinese.
His work has been published in Architectural Record, Landscape Architecture, Progressive Architecture, Architect, Places Journal and international journals. He was named a 2012 United States Artists Ford Fellow.
Luoni received a Bachelor of Science in Architecture from The Ohio State University and a Master of Architecture from Yale University.
The school is pursuing continuing education credits for this lecture through the American Institute of Architects and the American Society of Landscape Architects.
The public is invited to attend. Admission is free, with limited seating.
For more information, contact 479-575-4704 or fayjones.uark.edu.