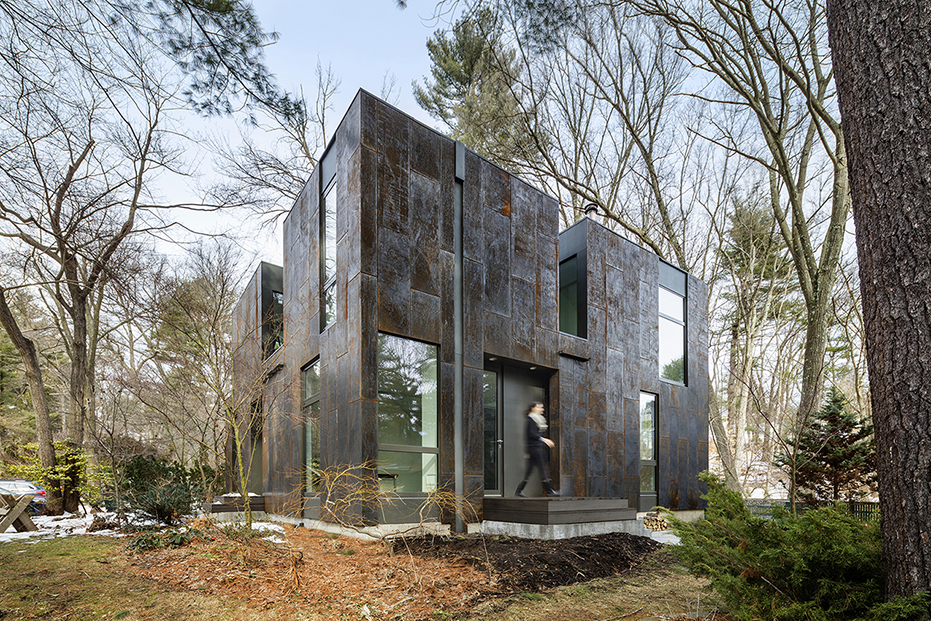 The Grow Box is a 1,975-square-foot home built in Lexington, Massachusetts, in 2016. (Image courtesy of Elizabeth Whittaker)
Elizabeth Whittaker, AIA, is the founder and principal of Merge Architects, based in Boston, Massachusetts. She is also an associate professor in practice of architecture at Harvard University's Graduate School of Design.
She will present a lecture at 4 p.m. Monday, April 1, in Ken and Linda Sue Shollmier Hall, Room 250 of Vol Walker Hall, on the University of Arkansas campus, as part of the Fay Jones School of Architecture and Design lecture series.
In her lecture, Whittaker will discuss the trajectory of her design practice exploring the social and spatial boundaries within an urban, suburban and rural context. The work of Merge capitalizes on invention in the ordinary as a way of working through obsessions with craft, assembly and the economic constraints of each project.
As a practice working in the Boston area and throughout the country, the work addresses each context on its own terms – producing new work focused on a contemporary interpretation of each unique region. As the firm scales up, the material research of the early work informs larger and more complex structural systems and building envelopes. With a heavy focus on housing and the workplace, Merge Architects finds new ways to socially choreograph the future of private and public space.
The work of Merge Architects has been widely published both nationally and internationally, and Whittaker has lectured extensively in the United States and abroad. Architectural Record recognized her in 2017 as a "New Generation Leader," which is awarded to one female architect in the United States each year. She is also the recipient of the 2015 AIA Young Architects Award. Architectural Record named Merge one of the top 10 emerging architecture firms in the world in its "Design Vanguard" 2014 issue, and The Architectural League of New York named Whittaker one of the top eight "Emerging Voices" in architecture in North America in 2015.
Whittaker graduated with Distinction from Harvard University's Graduate School of Design, and she received numerous awards during her graduate studies, including the Core Studio Prize, the Faculty Design Award and the John E. Thayer Award for overall academic achievement.
She works through the intellectual feedback loop between practice and academia, and she has taught design studios in several architecture programs, including Massachusetts Institute of Technology, Northeastern University and Harvard University. She has been teaching Core Architecture Studios at Harvard since 2009, and she was lead faculty in architecture in the Career Discovery Program from 2011-2015.
The work of Merge Architects uncovers and capitalizes on opportunities for invention in the ordinary, and in doing so, develops new methods of production that combine digital fabrication and the hand-made. Merge works closely with its clients as well as teams of fabricators, artists, craftsmen and engineers to produce an architecture that embraces the art of making within a larger agenda: re-defining the urban and social boundaries of the city.
An economy of means unites the office's dual agendas of design through making and urban engagement. This process of material and urban research transcends scale, use and context, allowing the work to address a wide range of programs, including universities, multi-family residential, commercial, institutional, academic, retail, furniture and graphic design.
The school is pursuing continuing education credits for this lecture through the American Institute of Architects and the American Society of Landscape Architects.
The public is invited to attend. Admission is free, with limited seating.
For more information, contact 479-575-4704.