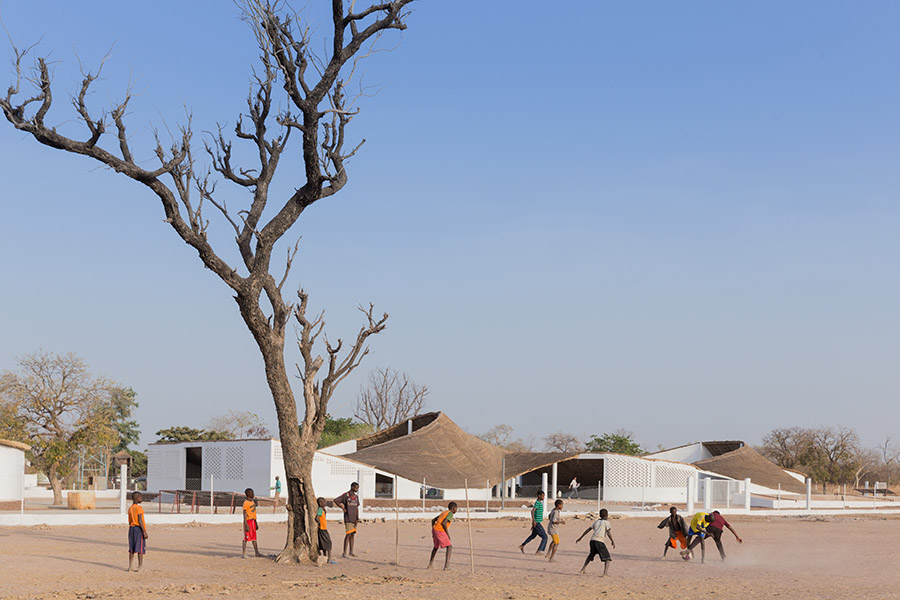 Thread: Artists' Residences & Cultural Center is situated in the remote community of Sinthian, Senegal, near the fragile border of Mali. A collaboration with the Josef and Anni Albers Foundation and American Friends of Le Korsa, this project offers multiple programs for the community, including gathering space, performance center, and residency for visiting artists. (Photo by Iwan Baan)
Toshiko Mori is the principal of Toshiko Mori Architect and is the Robert P. Hubbard Professor in the Practice of Architecture at Harvard University Graduate School of Design.
Mori will present a lecture at 4:30 p.m. Monday, Nov. 14, in Ken and Linda Sue Shollmier Hall, Room 250 of Vol Walker Hall, on the U of A campus, as part of the fall lecture series in the Fay Jones School of Architecture and Design.
In her lecture, "Observations," Mori will explore how architecture first takes the form of thoughts and concepts. She will describe how the practice of architecture begins when various, often disparate, reflections are woven into an organized structure to inquire into how buildings might confront complex issues by synthesizing design to unite form, envelope and environment. Architects not only solve problems but also identify them, reducing these to their component parts and observing them from another angle. They must balance ideas with rigorous observation before the designs that they imagine can become a reality.
By repeating this process — one characterized with the inclusive term "observation" — it's been realized that the unique way in which architects conceive of and identify problems is more speculative than generic. The architect's method is often comprehensive and open-ended, allowing multiple strands or narratives to coalesce. The earliest stages of programming a project are preoccupied with framing and reframing a set of criteria — observing the field of possibilities. Observation is a form of rumination, a quiet and precise practice that sets up the framework for propositions.
Mori established Toshiko Mori Architect in 1981 in New York City. Her firm's recent work includes master plans for the Brooklyn Public Library Central Branch and the Buffalo Botanical Gardens; Thread: Artists' Residency and Cultural Center in Sinthian, Senegal; Fass School and Teachers' Residence in Fass, Senegal; and the expansion of the Brown University Watson Institute for International and Public Affairs.
Mori's strong research-based approach to design has resulted in invitations to participate in lectures and conferences around the world, including panels at the MoMA, Guggenheim Museum, and the G1 Summit in Japan. Nikkei Businessrecently listed Mori as one of 50 Japanese Changing the World; Newsweek Japan listed her as one of 100 Japanese People the World Respects; and Forbes Japan featured her as one of 100 Self-Made Women.
Mori's recent awards and honors include the 2021 Isamu Noguchi Award, the 2021 AIA Architecture Award, the Louis Auchincloss Prize from the Museum of the City of New York in 2020, Architectural Record's Women in Design Leader Award in 2019, the AIA/ACSA Topaz Medallion for Excellence in Architectural Education in 2019, and the ACSA Tau Sigma Delta National Honor Society Gold Medal in 2016.
Her project Thread: Artists' Residency and Cultural Center was awarded the AIA 2017 Institute Honor Award for Architecture and was one of the winners of the inaugural FIBRA Award for Contemporary Plant Fiber-based Architecture in 2019. The project was recently shown in the exhibit "GOOD NEWS: Women in Architecture" at the National Museum of Twenty-First Century Art (Museo MAXXI) in Rome.
Mori taught at the Cooper Union School of Architecture from 1983, until joining the Harvard University Graduate School of Design faculty with tenure in 1995. She served as chair of the Department of Architecture at Harvard GSD from 2002 to 2008. She has been a member of the American Academy of Arts and Sciences since 2016 and was elected to both the American Academy of Arts and Letters and the National Academy of Design in 2020.
This is the Warren Segraves Lecture, sponsored by Modus Studio.
The school is pursuing continuing education credits for this lecture through the American Institute of Architects.
This lecture is free and open to the public. Seating is limited.