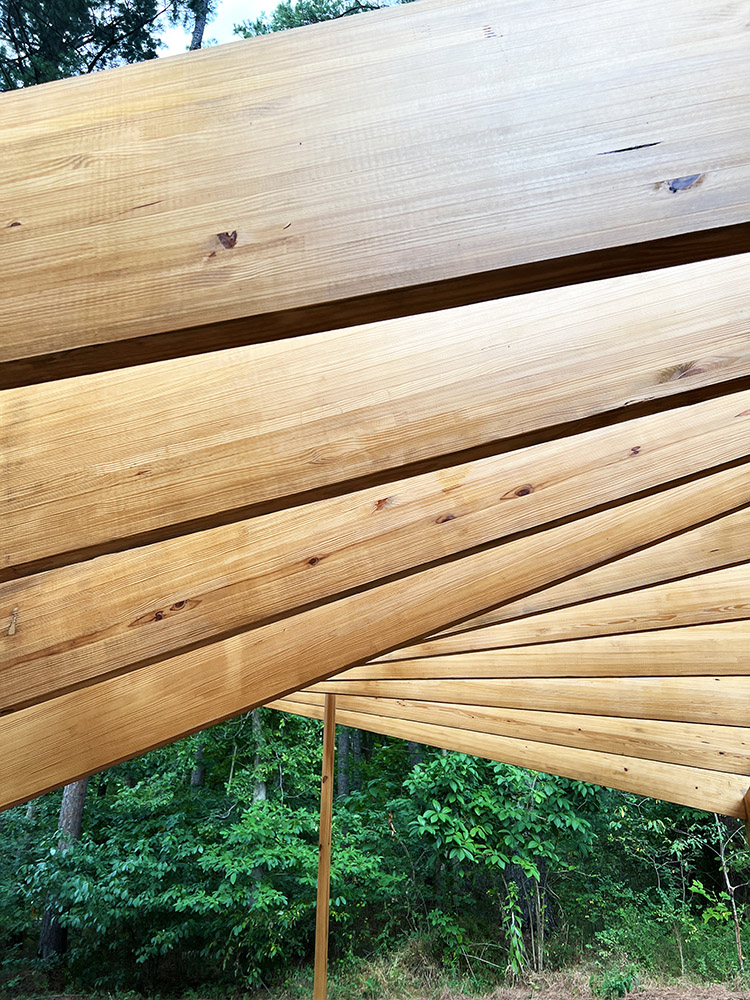 "House of Trees" is a timber pavilion built around a southern yellow pine on the Orchard Trail at Crystal Bridges Museum of American Art in Bentonville. Designed by LEVENBETTS, the pavilion is part of the museum's Architecture at Home exhibition, on display through Nov. 7. (Photo courtesy of LEVENBETTS)
David Leven, FAIA, and Stella Betts, Associate AIA, founded LEVENBETTS in 1997 in New York City. The practice has long been engaged with the transformative impact of mindful interventions in the built and natural environment. They are 2022 John G. Williams Distinguished Visitors in Architecture.
Leven and Betts will present a lecture at 4:30 p.m. Monday, Oct. 31, in Ken and Linda Sue Shollmier Hall, Room 250 of Vol Walker Hall, on the U of A campus, as part of the fall lecture series in the Fay Jones School of Architecture and Design.
Their practice, LEVENBETTS, is one of five architecture firms participating in the exhibition Architecture at Home, at Crystal Bridges Museum of American Art in Bentonville. This outdoor architecture exhibition, located along the Orchard Trail on the museum's grounds and anchored by R. Buckminster Fuller's Fly's Eye Dome, brings together five 500-square-foot prototypes for homes to spark a dialogue about contemporary housing.
In their lecture, "House of Trees | City of Trees," Leven and Betts will discuss a combination of open frameworks that they have developed for housing along with expressive explorations in mass timber technologies. To highlight housing and the opportunities of architectural design, Leven and Betts will do a deep dive into the two projects that LEVENBETTS developed for the Architecture at Home exhibition at Crystal Bridges.
"House of Trees" is a timber pavilion built around a southern yellow pine on the Orchard Trail at Crystal Bridges. And "City of Trees" is a housing prototype for nine blocks in Bentonville's Third Historic District. The two parallel projects are intended to address the twin crises of housing and carbon that plague cities, communities and the planet in the face of the commodified housing market and climate change due to the human induced imbalance in the global carbon cycle.
"House of Trees" is an all-wood structure that dances amongst the trees on its site, creating an immediate connection to the forest. LEVENBETTS sourced sustainably Arkansas-grown timber and worked with local partners across the timber supply chain to mill and process the lumber into cross laminated timber (CLT) and glulam components. These processes enable the structure to be expressive of its materials and technologies, responsive to its environment, replete with open and flexible spaces, and full of changing light qualities throughout the day and seasons. "House of Trees" is both of the forest and situated deeply in the forest.
"City of Trees" proposes inclusive mass timber housing for a quickly developing neighborhood adjacent to downtown Bentonville that exhibits the social, housing and urbanization stresses prevalent in many small-tier American cities. The project rethinks restrictive zoning practices to open up new opportunities for higher density housing, social amenities and new qualities of urban life.
A patchwork infill approach both honors and enhances the existing neighborhood fabric while creating living scenarios that foster shared and individuated ways of living. Advocating for combining available lots within the city block, reinforcing urban natural patterns of trees and water, and innovating with new mass timber technologies and local supply chains, the proposal offers smart methods of urbanization — and community/planet conscious decarbonized building methodologies — while meeting the growing housing needs of the region.
LEVENBETTS is committed to all scales of projects, from civic, cultural and educational projects in the urban realm to houses and housing, as well as unique installations, exhibitions and furnishings. The practice brings its unique combination of vision and precision, common sense and uncommon sensitivity to each project.
The practice has been recognized nationally and internationally through awards and publications and, in 2020, received the AIA New York State Firm of the Year Award. In addition, Betts was recognized as New Generation Leader by the 2020 Architectural Record Women in Architecture Forum, and Leven received the American Institute of Architects highest membership honor for his "exceptional work and contributions to architecture and society" by being elevated to Fellow status in 2018.
Over the years, LEVENBETTS has been honored by the Architectural League of New York for the 2009 Emerging Voices series, Architectural Record's 2007 Design Vanguard and the 2003 Young Architects forum. They have received six New York City AIA awards for significant projects. Their work has been exhibited and published worldwide. Leven and Betts have taught design at Columbia University, Cornell University, Parsons New School of Design, Cooper Union and Yale University.
Some of their recent and current projects include the renovation of the Queens Museum in New York; several New York City Public Libraries — the Redhook Library, the East Flatbush Library, the Borough Park Library and the Baisley Library; pavilions for both the Art Omi Architecture Fields in Ghent, New York, and Crystal Bridges Museum of American Art in Bentonville, as well as a 300,000-square-foot Life Sciences Building in Harlem and an affordable senior housing building in Forest Hills, Queens.
LEVENBETTS recently published a book, Thirteen Ways of Looking at a House, that examines the architectural program of the house from multiple artistic and cultural perspectives.
Leven received a Bachelor of Arts from Colgate University and a Master of Architecture from Yale University School of Architecture. He also studied at the Institute for Architecture and Urban Studies in New York. He is currently an associate professor at Parsons School of Design and serves on the Board of Directors of the New York AIA Chapter.
Betts received a Bachelor of Arts from Connecticut College and a Master of Architecture from Harvard University's Graduate School for Design. She is currently an adjunct professor at Yale University's School of Architecture and serves on the Executive Board of Directors of the Architectural League of New York.
This lecture is free and open to the public. Seating is limited.