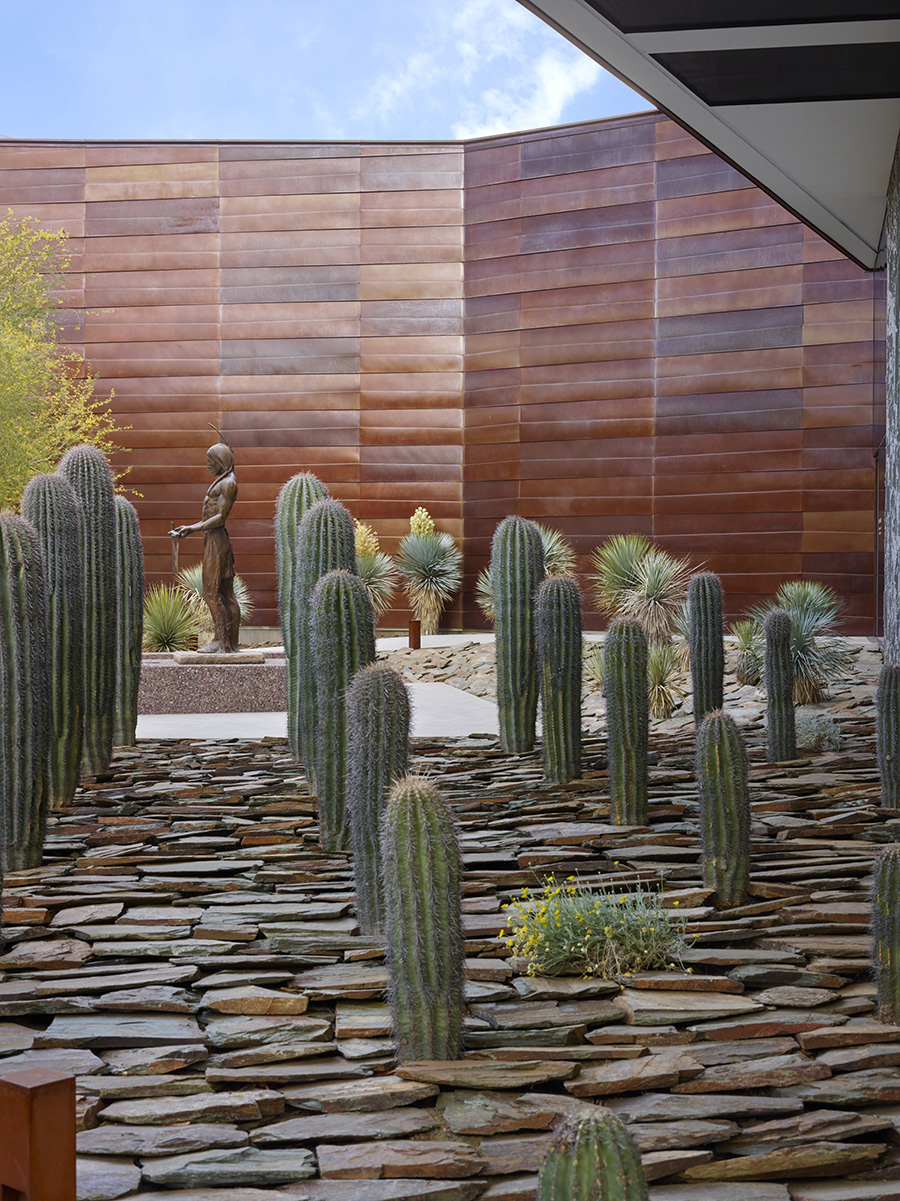 Western Spirit: Scottsdale's Museum of the West, located in Old Town Scottsdale, Arizona. (Photo courtesy of Colwell Shelor)
Allison Colwell, ASLA, and Michele Shelor, ASLA, are founders and principals at Colwell Shelor, a collaborative landscape architecture and urban design practice based in Phoenix, Arizona. Founded by the pair in 2009, the firm is dedicated to design excellence and to the creation of meaningful, vibrant environments that deeply reference the cultural and ecological requisites of each site.
They are the 2023 Verna C. Garvan Distinguished Visitors in Landscape Architecture.
Colwell and Shelor will present a lecture at 4:30 p.m. Monday, Feb. 6, in Ken and Linda Sue Shollmier Hall, Room 250 of Vol Walker Hall, on the U of A campus, as part of the spring lecture series in the Fay Jones School of Architecture and Design.
In their lecture, "33.4484° N, 112.0740° W Light + Water + Storytelling," Colwell and Shelor will explore the design process from the perspective of a small firm working in the Southwest and dealing with specifically with arid environments. They will discuss the integration of design, creativity and strategies.
Colwell Shelor creates vibrant and unique environments which respond to the client's desires as well as the cultural and ecological requisites for each project. With each commission, the firm makes every effort to balance program with appropriate responses to the needs of inhabitants of the built and natural world whilst aspiring to improve the relationship between people and the world in which they live.
Equipped with an extensive vocabulary of native vegetation combined with a detailed understanding of over-structure as well as structural elements, the studio strives to recognize and celebrate the organic and inert material morphology found in both the low and high desert regions of the United States.
The firm's body of work demonstrates a passionate commitment to environmentally responsible design by promoting strategies such as rainwater harvesting, increasing infiltration, reducing the heat island effect, and employing innovative energy-reducing technology into every project. Colwell Shelor's ultimate ambition is to reach beyond sustainability and create living communities that enhance livability, have lasting appeal, and provide ecological benefits to all inhabitants.
The firm's principals have collaborated with a wide range of other disciplines on some of the most imaginative and technically challenging projects in Arizona. The firm's work is greatly varied in type and scale, ranging from cultural spaces, academic plazas, civic complexes, parks and transportation projects to intimate domestic sanctuaries. The firm is dedicated to creating simple yet dynamic landscape environments that are sensory and personal, yet fiscally realistic, sustainable, and socially responsible.
The school is pursuing continuing education credits for this lecture through the American Institute of Architects.
This lecture is free and open to the public. Seating is limited.