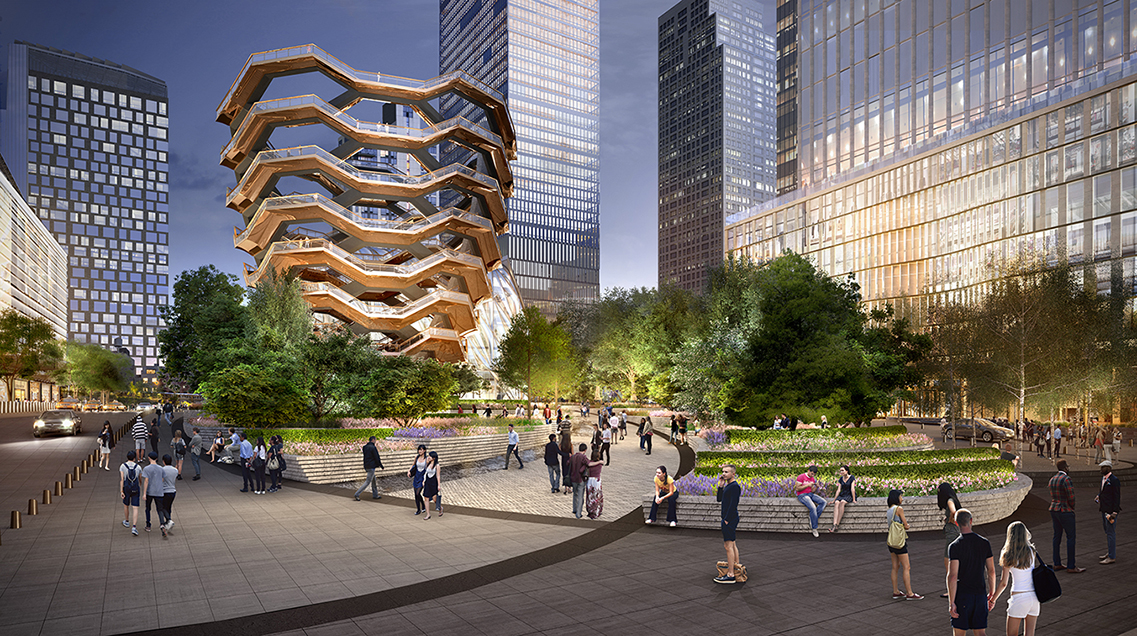 The Public Square and Gardens at Hudson Yards, now under construction, will be a dynamic landscape destination at the center of Manhattan's largest urban development. (Image courtesy Nelson Byrd Woltz Landscape Architects)
Thomas Woltz is principal and owner of Nelson Byrd Woltz Landscape Architects, with offices in Charlottesville, Virginia, and New York, New York. His design work infuses places where people live, work and play with narratives of the land that inspire stewardship.
Woltz, FASLA, will present a lecture at 4 p.m. Monday, Feb. 25, in Ken and Linda Sue Shollmier Hall, Room 250 of Vol Walker Hall, on the University of Arkansas campus, as part of the Fay Jones School of Architecture and Design lecture series.
In his lecture, "The Nature and Culture of Public Space; Civic Identity Through Design," Woltz will discuss how every landscape within a city holds layers of history that become unintelligible or distorted through the passage of time. The research-driven design process at Nelson Byrd Woltz Landscape Architects seeks to reveal these unique stories of ecology and culture through the medium of landscape architecture. Woltz will illustrate the firm's process through recent projects. Whether public parks, public plazas or sites of memory, the work demonstrates the firm's commitment to horticulture and craft in expressing the shared past and creating enduring and resilient civic landscapes.
Woltz was named the Design Innovator of 2013 by WSJ. Magazine. In 2011, he was invested into the American Society of Landscape Architects Council of Fellows, among the highest honors achieved in the profession.
During the past 20 years of practice, Woltz has forged a body of work that integrates the beauty and function of built form and craftsmanship with an understanding of complex ecological systems and breadth of landscape material and media. Under his leadership, Nelson Byrd Woltz has evolved from a firm of five people to 45, and he has expanded its mission to tackle a diverse range of scales and contexts. He leads the firm in the design of major public parks across the United States, Canada, England, Australia and New Zealand including Cornwall Park in New Zealand, Mount Cuba Center in Delaware, Memorial Park in Texas and Centennial Park in Tennessee.
Woltz studied architecture, landscape architecture, fine art and architectural history at the University of Virginia. He holds master's degrees in landscape architecture and architecture.
After working in Venice, Italy, and Paris, France, he returned to the United States to launch his career in landscape architecture. Woltz serves on the Boards of Directors of The Cultural Landscape Foundation, and the University of Virginia School of Architecture Foundation.
This lecture qualifies for continuing education credits through the American Institute of Architects and the American Society of Landscape Architects.
The public is invited to attend. Admission is free, with limited seating.
For more information, contact 479-575-4704.