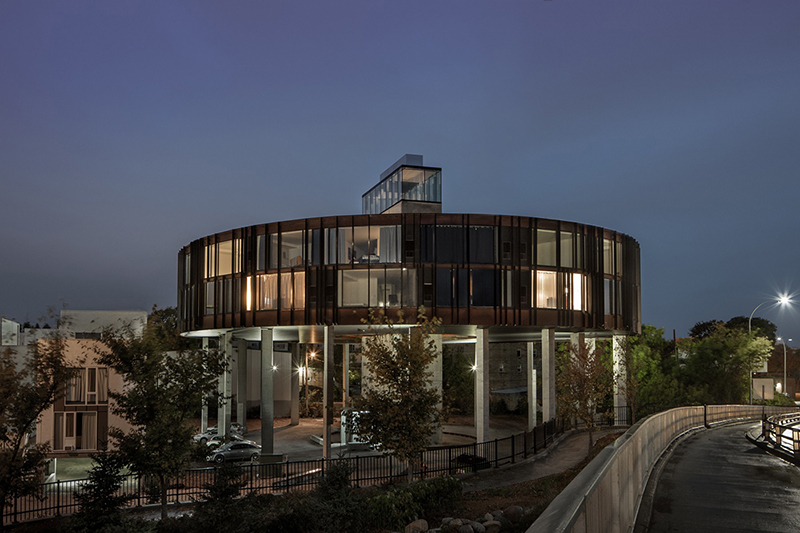 62M is a 40-unit residential development located at the edge of downtown Winnipeg and the Red River. (Photo by James Florio Photography)
Sasa Radulovic co-founded 5468796 Architecture, based in Winnipeg, Canada, with Johanna Hurme in 2007. He guides the office in seeking projects that explore the potential for density, affordability and sustainability achieved through non-traditional means, and a dynamic design approach.
Radulovic will present a lecture at 4 p.m. Monday, Oct. 8, in Ken and Linda Sue Shollmier Hall, Room 250 of Vol Walker Hall, on the University of Arkansas campus, as part of the Fay Jones School of Architecture and Design lecture series.
In his lecture, "Responses to the Narrowing Field of Capital A," Radulovic will discuss the firm, which began as a reaction to decades of public apathy and ambivalence about architecture. The firm aims to disrupt the status quo through new architectural propositions. The founders' decision to stay in Winnipeg, particularly at a time when many fled to greener pastures, resulted in commissions that focused on the "missing middle" — including multi-family housing in its many forms and ownership models.
Shaped early on by the geographic availability and scope of this work, it is easy to be skeptical about the narrow field in which capital 'A' architecture operates in Canada today. Country houses for the 1 percent or gleaming towers that shape the largest urban centers and their skylines do not adequately meet the growing need for well-built and planned cities, nor do they provide access to carefully considered and designed places for the vast majority of the population.
In comparison and by its most basic definition, housing lacks the promise that forms the basis of cultural, civic, recreational or spiritual realms. Conversely, multi-family housing is one arena in architecture that has the most impact on the lives of "ordinary people" going about their daily lives. Given the dramatic shift toward smaller family sizes in North America, multi-family housing is in fact an overwhelmingly more acceptable form of living. It therefore requires more and various kinds of effort to face the relentless repetition and mundane programs that define an ever-narrowing margin in which this 'architecture' can occur. In pursuit of apparent affordability and too often at the expense of livability, a great new frontier is opening for architects to address this mundanity of housing stock.
To turn this constraint into an opportunity, architects must go back to the very tenets of the profession — founded on creative thought, innovation, and concern for the greater good of the public — in order to recognize that it is architects' ethical duty to serve not only their direct client, but the users and all those who will get interact with a building over its lifetime.
At 5468796 Architecture, they discuss how a sign of a great project tends to be one where the final outcome is furthest from their initial inclinations. This is not to suppress intuition but to engage iterative, open-ended and ultimately flexible process, which is particularly important in order to evolve thoughts and ideas when reacting to various contexts, conditions, clients and end-users. Abandoning preconceived notions about the outcome creates room for invention or innovation and can re-shape even the smallest of briefs, leaving the resulting architecture to be dynamically formed by all those involved.
While first and foremost a practitioner, Radulovic lectures extensively at universities, forums and festivals across Canada, the United States, Europe and Asia. He is an active member of the Board of Directors of the University of Manitoba Partners Program, an organization that promotes communication between professionals, industry, educators and students. In the past 10 years, the firm has achieved national and international recognition, including three Governor General's Medals in Architecture from the Royal Architectural Institute of Canada.
He has initiated and co-created a number of design-related events and programs in Winnipeg that serve to improve the public appreciation of architecture. Most recently, he has been appointed as Visiting Professor-Morgenstern Chair with the architecture faculty at the Illinois Institute of Technology in Chicago.
This is the Warren Segraves Lecture, sponsored by Modus Studio, and the June Biber Freeman Endowed Lecture in Architecture.
The school is pursuing continuing education credits for this lecture through the American Institute of Architects and the American Society of Landscape Architects.
The public is invited to attend. Admission is free, with limited seating.
For more information, contact 479-575-4704 or fayjones.uark.edu.