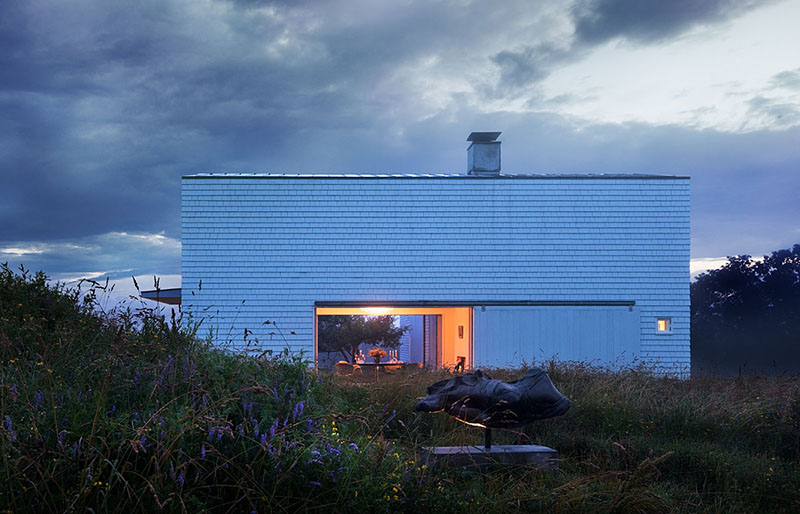 Kinderhook Retreat in Upstate New York. (Image courtesy Margie Ruddick Landscape)
Margie Ruddick is an international, award-winning landscape designer and is the recipient of the 2013 National Design Award for landscape architecture from Cooper Hewitt, Smithsonian Design Museum, which honors excellence, innovation and lasting achievement in design. Her studio, Margie Ruddick Landscape, in Brooklyn, New York, has earned its reputation for producing the most innovative solutions at the highest level of design.
In a career spanning more than 25 years, Ruddick continues to be recognized for her pioneering, environmental approach to landscape design, forging a design language that integrates ecology, urban planning and architecture. Dwell magazine has identified her as a "landscape design icon" and Elle Décor named her as one of five landscape designers "who are reshaping our world."
Recently completed projects include a residential community in Taipei, Taiwan, for which Ruddick is the landscape designer working alongside architects Richard Meier, Steven Harris, Annabelle Selldorf and Calvin Tsao. Another recently completed project is a transformative design for New York City's Queens Plaza, which has won awards for promoting a new idea of nature in the city.
Ruddick's completed international projects include Shillim Institute and Retreat in the Western Ghats of India, which integrated conservation, income generation and the highest quality of architecture. In 1996, she traveled to Chengdu, Sichuan, China, to work with artist Betsy Damon to design the Living Water Park, the first ecological park in China, which cleans polluted river water biologically.
In addition to her recent teaching position at Princeton University, Ruddick has taught at the Harvard University Graduate School of Design, Yale University, the University of Pennsylvania, Parsons School of Design and Schumacher College in England. Ruddick is frequently invited to present her work and speak at universities, government forums and design conferences around the world.
Ruddick's much-anticipated book Wild By Design: Strategies for Creating Life-Enhancing Landscapes (Island Press) was published in 2016 to great acclaim.
Ruddick will present a lecture at 1 p.m. Monday, Oct. 30, in Ken and Linda Sue Shollmier Hall, Room 250 of Vol Walker Hall, on the University of Arkansas campus in Fayetteville, as part of the Fay Jones School of Architecture and Design lecture series.

In her lecture, titled "Landscapes and Their Buildings: Conceiving the Dynamic Between the 'Natural' and Built Worlds," Ruddick will discuss how architecture is one part of a series of ecosystems. These ecosystems include not only "natural" systems, but human activity, energy systems and infrastructure, among other components of the landscape. Even without the designers knowing it, projects take different positions on the relationship between the built or domesticated world and the larger landscape.
The landscape, illustrated by a broad range of projects, is a dynamic, ever-changing matrix of systems. Architecture can engage these in ways that enhance the connection between inside and outside. Examples in her presentation will range from residential projects to a 3,500-acre retreat in India.
This lecture has been approved for health, safety and welfare continuing education credits through the American Institute of Architects.
The public is invited to attend. Admission is free, with limited seating.