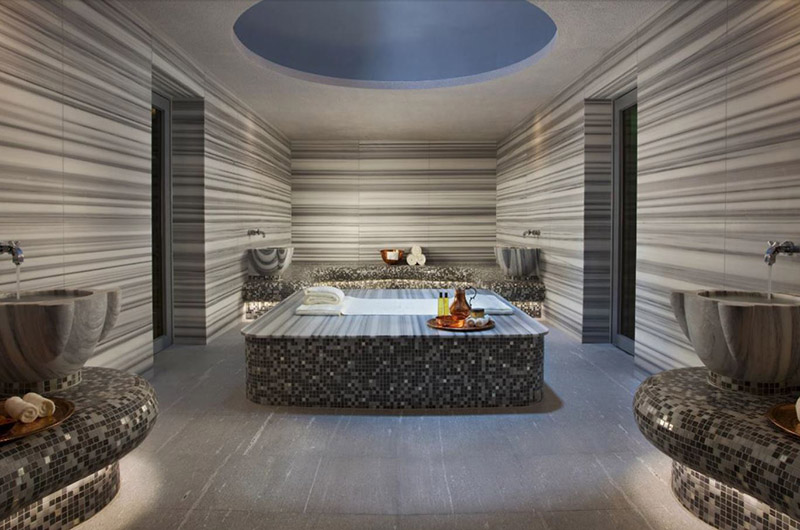 Resorts World Sentosa in Sentosa, Singapore, is a tropical family mega-resort that offers six unique hotels with six different themes, each distinctive in its personality, yet sharing the same touch of warm hospitality. Photo courtesy Michael Graves Architecture & Design
Karen Nichols, FAIA, and Donald Strum, IDSA, are principals of Michael Graves Architecture & Design in Princeton, New Jersey. Nichols, who joined the firm in 1977, has played a key role in the integration of planning, architecture, interior design and product design, which is the hallmark of the Graves practice. Strum, with the firm since 1984, is in charge of product, furniture and graphic design, and has played a key role in the development and the success of the firm's product design practice.
Nichols and Strum will present a lecture at 1 p.m. Friday, April 6, in Ken and Linda Sue Shollmier Hall, Room 250 of Vol Walker Hall, on the University of Arkansas campus in Fayetteville, as part of the Fay Jones School of Architecture and Design Lecture series.
In their lecture, titled "Practice, Practice, Practice," they will use examples from hospitality, workplace, healthcare and education to show how the interior design of their projects marries architecture and products, promotes humanistic environments, and creates value for the user experience.
Nichols is currently the project executive for a 2-million-square-foot nationwide workplace transformation for a large financial institution. She has been principal-in-charge of multiple phases of renovation and expansion of the Newark Museum spanning 40 years, including a 1980s renovation that received a National AIA Honor Award. The latest phase opened to the public in February 2018. A long-standing proponent of education and raising public awareness of architecture, she is a member of the Advisory Boards of the New Jersey Institute of Technology's College of Architecture & Design and Kean University's Michael Graves College. She is the 2018 chair of the American Institute of Architects' Jury of Fellows and a champion for women in architecture.
Strum's first project for the firm was the now ubiquitous "Whistling Bird Teakettle" for the Italian manufacturer Alessi. In 1997, under Strum's leadership, the firm began a relationship with the Target Corporation that led to what many in the critical press have hailed as "the democratization of design." In 2005, after witnessing firsthand the issues Michael Graves was experiencing with an illness that left him paralyzed, Strum and the product design group made a commitment to transform healthcare design services for the aging and physically disabled population, as well as for the people who care for them. Strum and his product design group have brought more than 2,000 consumer products to market during the past three decades.
This lecture is part of the American Society of Interior Designers South Central Design Summit, which will be held April 5-8 in Fayetteville and is co-hosted by the Fay Jones School.
The Fay Jones School is pursuing continuing education credits for this lecture through the American Institute of Architects.
The public is invited to attend. Admission is free, with limited seating.
For more information, contact 479-575-4704 or fayjones.uark.edu.