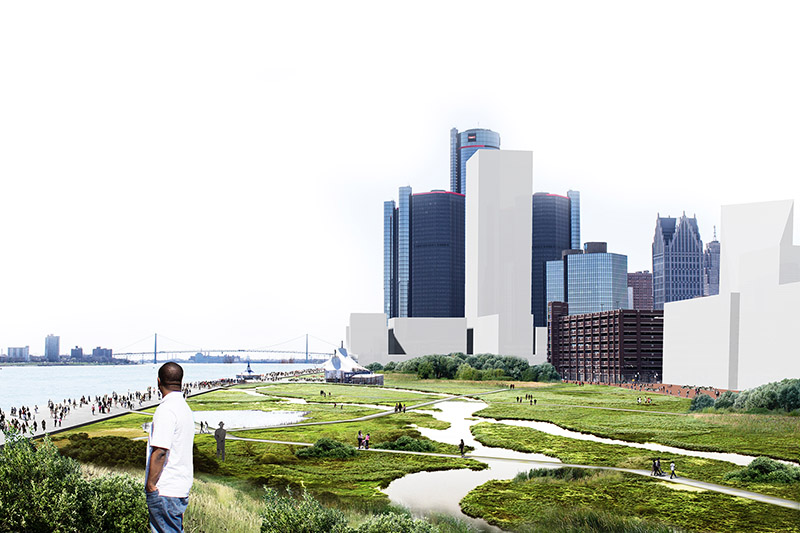 Detroit Riverfront (rendering courtesy Maurice Cox)
Maurice Cox, the planning director for the City of Detroit, is an urban designer, architectural educator and former mayor of the City of Charlottesville, Virginia. Cox most recently served as associate dean for community engagement at Tulane University's School of Architecture and director of the Tulane City Center, a university-affiliated practice operating at the intersection of design, urban research and civic engagement throughout the New Orleans community.
Cox has taught at Syracuse University, the University of Virginia and Harvard University's Graduate School of Design. His experience merging architecture, politics and design education led to his being named one of "20 Masters of Design" in 2004 by Fast Company. He served as design director of the National Endowment for the Arts from 2007-2010, where he led the NEA's Your Town Rural Institute, the Governor's Institute on Community Design, the Mayors' Institute on City Design, and oversaw direct design grants to the design community across the United States. In 2013, Cox was named one of the Most Admired Design Educators in America in the annual ranking of DesignIntelligence.
Cox will present a lecture at 5 p.m. Monday, Jan. 30, in Ken and Linda Sue Shollmier Hall, Room 250 of Vol Walker Hall, on the University of Arkansas campus in Fayetteville, as part of the Fay Jones School of Architecture and Design lecture series.
In his lecture, titled "The Big Payback," Cox will discuss changes happening in Detroit, which was once the locus of the American Dream. With a population of 1.9 million at one point, the city is now at a tipping point – with its population at 700,000 and a new administration at the helm with a new planning department. Now it's time for the "Big Payback."
This means it's time to expand the focus beyond downtown and into hard-hit neighborhoods. Cox believes the heart of the city is its downtown, yet the soul of the city is its neighborhoods. The question is, how to acknowledge what's already there, and keep people in place? That's part of their strategy.
In a city of 24 square miles of open space, no one should have to be displaced. So with a new planning staff of 25 people, with skills in architecture, landscape architecture, historic preservation and urban design, they are developing innovative strategies. Proceeding from an all-inclusive approach, whereby planners engage residents in decision-making, the staff strives to be astute interpreters of a community's vision. Such strategies focus on making places for people.
Highly experimental, the strategies range from medium-density, mixed-use retail development to greening tactics, such as reforestation and urban farming, aiming to infill areas of widespread vacancy. Planners are developing a concept called the 20-minute neighborhood that focuses on compact, walkable urban environments. These are places that offer residents all they need for their daily work, shopping and recreation with a 20-minute walk or bike ride. The goal is to reward those who "stuck it out" and attract newcomers, to grow the population and, in the process, create a new paradigm for the American city.
Continuing education credits for this lecture will be pursued through the American Institute of Architects and the American Society of Landscape Architects.